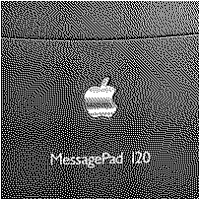 MessagePad
120 / OS 1
(1994-1995)
CPU: ARM 610
Speed: 20 Mhz
Display: 320x240
BACKLIGHT: no
ROM: 4 MB
RAM: 1 MB or 2 MB
BATTERY: 4 AA alkaline
PCMCIA: 1 PC Card Type II
HEIGHT: 203.2 mm
WIDTH: 106.0 mm
DEPTH: 20.9 mm
Newton OS: 1.3

The 120 has the form factor of the 110. It is the first newton without the awfull rubber skin.
The first version was released with NewtonOS 1.3.
Because of the case and speed, it is the best choice to experience the full potential of NewtonOS 1.
Today they are hard to find. Most of the time you get a 120 with Newton OS 2.0.