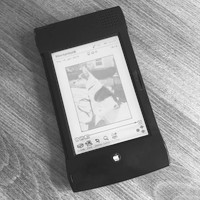 MessagePad
2100 (1997-1998)
CPU: ARM StrongArm 110
Speed: 162 Mhz
Display: 480x320
BACKLIGHT: yes
ROM: 8 MB
RAM: 4 MB System
4 MB Storage
BATTERY: 4 AA alkaline
PCMCIA: 2 PC Card Type II
HEIGHT: 210.3 mm
WIDTH: 118.7 mm
DEPTH: 27.5 mm
Newton OS: 2.1

The 2100 blew me away, when I first saw it in 1997. A friend of mine had one for work.
No device had this speed, the display and portability.
This machine started my collection a few years ago. Currently I am cleaning it and maybe it's getting a new display. Done!
The 2100 was the last of the Newtons, sadly until today nothing has reached the same quality.