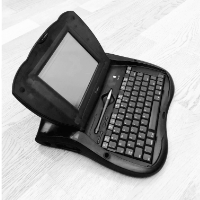 eMate 300
(1997-1998)
CPU: ARM 710a
Speed: 25 Mhz
Display: 480x320
BACKLIGHT: yes
ROM: 3 MB
RAM: 3 MB
BATTERY: 4 AA/NiMH Pack
PCMCIA: 1 PCMCIA II/III
HEIGHT: 290 mm
WIDTH: 305 mm
DEPTH: 53 mm
Newton OS: 2.1

The eMate is something special: a Newton in a laptop case.
Designed for the education market, it has a beautiful, translucent case with a keyboard.
Unfortunately, the CPU is a bit slow, but I have rarely experienced such a sophisticated device.
One of the early masterpieces by designer Jony Ive.