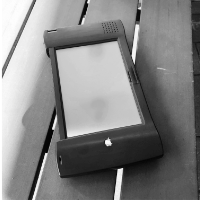 MessagePad
2000 (1997-1998)
CPU: ARM StrongArm 110
Speed: 162 Mhz
Display: 480x320
BACKLIGHT: yes
ROM: 4 MB
RAM: 1 MB System
4 MB Storage
BATTERY: 4 AA alkaline
PCMCIA: 2 PC Card Type II
HEIGHT: 210.3 mm
WIDTH: 118.7 mm
DEPTH: 27.5 mm
Newton OS: 2.1

The 2000 is one of my favourite machinces. It's a beast with a 162 Mhz StrongARM CPU and this was 1997.
The display is/was a great 16-greyscale display.
On this machine the handwriting recognition finally works.
Because of the two PCMCIA slots, you can have a flash memory card next to a networking card.
I upgraded my 2000 to a 2100. I also removed the skin, which had become sticky over the years.